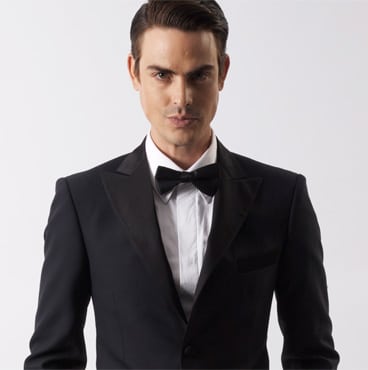 I have been giving out plenty of tips and consultation regarding fashion and gentlemanly etiquette and some of you have been wondering how thin your wallets will get by changing your wardrobe. It's interesting how simple minded we can be on certain subjects in life and in others we give our complete complex perspective towards it. For example, I had higher than average hits on my last post (Sex Therapy), you perverts. Funny enough, it was about perversions. You will never read anything on this site that is out of bounds or chaos worthy so don't even think about it.
Ladies and gentleman, it's time to go back to the basics. I will never tell you to completely change your wardrobe but updating it is a definite action you must take. I'm no Tim Gunn; although, I do aspire to have his type of life. This isn't a show just an outlet for you - the readers - to pick up on stuff you wouldn't normally think about. This blog is not strictly for men, as women have a great opportunity to see what goes through the minds of proper gentleman. Along the process, they will know that there are still men that appreciate them completely. In order to do any of that, we must first make sure we are presentable and properly prepared for everyday life. I will always repeat to my clients and friends alike that it is never about the price tag or the brand name. It's about style and attitude, it's about comfort and confidence.
There are is a very easy process of saving money and updating that wardrobe of yours. When it comes to style those hangers with clothes hanging off it happen to be your arsenal - that is your war chest. The first thing is first, your health. Give up the junk food, you are seriously killing yourself. The sad thing about all that is that it really does take something drastic to change the minds of humans. For example, we don't appreciate life up until someone very close to us passes away. That's pathetic. You just learn to appreciate life from the moment you wake up every morning. Your problems are insignificant compared to the rest of the world. I can't stress enough to drink more water than consume alcohol. Personally, I am not a drinker; I have never tasted alcohol in my entire life (that goes for smoking as well). A glass of red wine from time to time is OK. Even then, try to cut down on that, you are saving more money than you think by simply cutting down on eating out and on unnecessary products.
When it comes to fuel for the car, once again, it's much easier than you think. Think about your priorities. The car is a must when going to work and back. All the other things on the weekend, try to carpool. Not only are you keeping your wallet healthy, you are also saving the environment one day at a time.
It's the little things that matter
. Ever heard that? I'm sure you have mainly because it's damn true. You shouldn't be complaining about where you work (unless it's unethical or illegal) when there are a large percentage of people who have lost their jobs. Economy 101. Somethings in this world you don't need text books for. The same goes for purchasing those expensive caffeine pick-ups in the morning.
Starbucks
? Really? Unnecessary. There is nothing chic or cool about chugging down a 20 oz over priced drink.
There are an entire list of things you can cut down on and save a whole lot of money for updating or completely altering your wardrobe. In fact, this goes beyond your clothes. These are just common sense life lessons you should pick up on. The key to looking great is to feeling great. If you can exercise 5 days out of the week and eat healthy, you are taking a very large step into looking amazing. Nothing comes easy when looking fantastic but it's not difficult to look horrible. Ask yourself this question when you see yourself in the morning, "Do I really feel good?" Being sexy is a state of mind. Again, this refers to men and women. Never forget the '3S' effect: Sexy, Sophisticated and Smooth.
- Gentleman Tip of the Day -
If you have been following closely, I have been recently giving tips on shoes and belts. One of the more important things is the upkeep. Taking care of your car is pretty much the same as taking care of those very expensive and high quality shoes. Belts aren't too much of a fuss because they don't give away like shoes do. The importance of maintaining the shine on your dress shoes, along with your pricey casuals, is to keep you sharp and away from digging into your wallet again. When you actually go out and find a great quality dress shoes, remember to always buy shoe polish or the correct cloths that is needed to regularly dust off your shoes. When you first purchase the shoes it's alright to keep it in the box, but once you start wearing them, that's when the maintenance begins. I'm not taking about watching where you step or keeping distance from other people. Do all that if you choose but the main objective is how to keep those pairs looking new.
Invest in a home shoe polishing kit. Try polishing and or shining it up before everywhere. It depends how often you are wearing those particular shoes. If it is quite often, you may want to hold out on the polishing for a bit and simply dust it off instead. When you do actually polish it, remember to put light pressure on it. Don't stroke at it like you are trying to sharpen a knife.

Shoe trees are a must. For casual shoes, you don't have to worry too much about. You are supposed to wear them in anyway. For dress shoes, it's like I said, maintain that quality pair of shoes like you would take care of your precious car. Shoe trees prevent the shoes from creasing even further. If you have purchased your shoes from a top notch label or brand, the trees will come along with. Don't worry you can always buy a pair, just know where to buy them.

Let it breathe! As expensive and magnificent those shoes are, the leather will gradually give into deterioration. Some brands will take longer than others but nothing lasts forever. Along with putting those shoe trees in, you have to keep them out in the open - in room temperature. That leather, regardless the designer, needs breathing and natural light. You never want to seclude them into locked safe. It's like a fine work of art, know when to take the glass frame off and clean it.

For the love of God, change your socks. You may not think you are sweating down there, but you are. There is a reason why the socks were created. That sweat leaks onto the shoe and contributes to that leather deterioration. Always change your socks on every single time you wear your shoes. This goes for both dress shoes and casuals. I don't care if your feet smell like baby powder on a new born baby dipped in lavender and honey. Your feet do sweat, don't be delusional.
Take care of those babies and I assure you that you will save plenty of money and still look GQ at the end of the day. Walk the walk, gentleman.
"Things are changing with globalization. You never used to see a Frenchman wearing tennis shoes at night." - Tom Ford