How many times have you (first-hand) seen or experienced for yourself a woman serenading a man? I had an interesting visit to the barbershop today. My cousin needed a haircut and, of course, as the stylist I told him what would look good on him and that's the way how the cut went. I could have done a little trimming myself but my personal barber was out of town so I just decided to get a shave instead. My shave was done before my cousin's haircut and shave. I decided to wait for him outside near the front entrance (near the counter). Behind me sat a an older woman in her decked out sari with sunglasses and all. I'm not really sure why she was there as this was specifically a place for men - the womens salon was right around the corner. Regardless, I was messing around in my BlackBerry and suddenly the woman starts humming a tune transitioning into the actual song.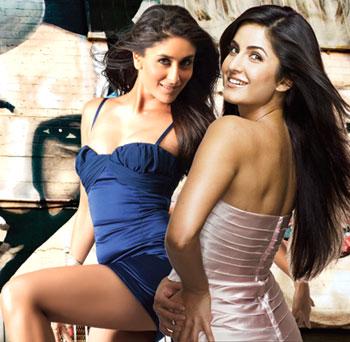 Kareena (left), Katrina (right)
She was quite flamboyant from the way she talked and her singing. It really didn't hit me at first until later on. She had actually been sitting there for a while before I actually reached the front counter. All of a sudden my appearance switched her entertaining side on. She called one of her friends (I'm assuming) and started saying all kinds of hilarious things; I tried not to laugh. She was quoting lines from
'Bollywood'
films and sure enough, she started singing one of the songs from a film as well. Again, I kept my composure. She discussed things like how she lost 20 pounds and needed to burn 10 more to have a body like
Kareena Kapoor
and
Katrina Kaif
. And as beautiful and sexy as those two Indian actresses are, this woman was nowhere near the figures the two gorgeous actresses posses. The entire scene was too funny for me not to share on this blog. You have to remember that not only do I give relative and worthy advice to women and men, I also give a little bit of
me
to my audience (the readers). I'm sure the serenade experienced earlier was directed towards me cos the woman kept on glancing over at me while she was
"spittin' game"
on the phone. I applaud her for her carefree nature and appreciated the serenade. I couldn't help but to laugh out loud as I stepped outside the barbershop on my way home.
Heidi Klum (left), Gisele Bundchen (right)
~ Ladies First ~
Ladies, I know you dread those moments where you suddenly get a hint of illness. You start to sneeze and soon enough your temperature rises. The worst of it all...you have a special event/occasion to attend. I've always been an advocate of natural beauty and only apply very light amount of makeup but in this case, it is very important to take the right steps and to apply certain products in the correct manner.
I read this perfect article for this type of problem on Style.com. The entire blog post discusses how to camouflage those rough spots on your face from dozens of tissues being wasted from you being under the weather, etc.
Friction created around the nose area from tissues can be solved by a tinted moisturizer.

Those Rudolph nose moments can be fixed by "any yellow-based concealer or powder".

Battling cracked or dry skin is taken care of through exfoliation and moisturizing.

Dry lips should be cared for applying lip-balm every night and later applying lip gloss.
You can find more in-depth answers to those common problems and a couple of more points that aren't discussed in this post. I assure you this is for every woman who need to be prepared to battle the harsh cold that will be creeping up this winter. Read the entire blog here: Beauty Counter at Style.com
The last thing you want is to look like you went 12 rounds in a heavy-weight bout with Mike Tyson.
- Gentleman Tip of the Day -
It's time to coordinate, gentleman. There are rules when it comes to matching shirts and tie patterns. These are in the somewhat more advance knowledge from the basics of fashion for men. For example, choosing which color to wear all depends on your skin tone (which I'll discuss later in a different post). After getting the basics out of the way, these are the rules to always follow to look sharp and spot on.
Repeat colors in each pattern - before matching anything choose which shirt you will be wearing first. Once chosen, you must take notice which color is more dominate in the pattern. Afterward, you can choose a tie that has the same accents as that dominate color on your shirt.

Outward perspective - the rule here is to wear a shirt with smaller checked prints and make the tie have a larger print; as in, the prints are wider in space on the ties. Once again, make sure the colors are similar and matches with your trousers.

Weight of patterns - it's very important to avoid prints that are the same size. To make sure the look is spot on, you have to lean towards the shirt having a heavier pattern while the tie is more on a lighter side. It looks too busy and the idea of making a statement will soon vanish. The aim here is to make it easier on the eyes.

Small patterns with large patterns - as discussed in the other steps, your shirt and tie should play off each other; they should compliment each other. If your shirt has a small pattern, your tie should have a larger one and vice versa. But if your shirt is a neutral color like black, gray or white, you really do not have to worry about keeping the tie in the same color family.
This is only a small yet important knowledge for men in the world of fashion. You can play it safe and stick with solids but a gentleman who can coordinate and play with colors is a sign of savvy image marketing. The currency may be different but your goal is to let everyone know that you definitely know how to present yourself. Sell yourself in a way where your clothes do the talking and all you have to do is slap on that charming smile.