P
erhaps guilty as sin when it comes to fashion. Ladies and gentleman, it's OK to be embarrassed what our parents draped ourselves in. They thought it was cute. You thought, now being an adult, what the hell were they thinking? I went through older pictures of me and my family friends (back in California), after one of my friends commented on an old picture of mine on
Facebook
. It reminded me of the days where we had simpler things to worry about like which cartoons to watch and which character resembled us the most. Now, we are just too busy with pretty much everything.
We forget to appreciate those little moments we have. As grown adults, we are more image conscious. In reality, we have to be; it is the world we live in. It is because we are no longer children we must learn to take care of ourselves even better. Not just in grooming, but in the sense of fashion as well. It's the total package: the outfit, the smile, the confidence. Honestly, the majority of us do have those abilities so do not doubt yourselves right off the bat. Give yourself a chance. And hey, there are people like me out there who are more than willing to help. If you want to look sexy, you better feel sexy first. It starts with you and it ends with you - from inside-out.
Lanvin travel kit
~ Ladies First ~
Shop 'til you drop? Not this time, ladies. It's the Holiday season which means spending more on the people you love than on yourself. There's plenty of spoiling yourself throughout the year. Here are some good ideas from leading ladies of the fashion world that may help you in shopping for the right gift. Remember, these are only ideas and it doesn't mean buying the exact thing on the list is the only way to go. I chose a few that I felt were the best picks from each of these ladies.
Rachel Zoe's (Stylist) list:
A Cartier (Calibre de Cartier in rose gold) watch that wasn't too trendy but represented her unfading love for her husband.
A Lanvin satin leopard-print travel kit.
A Gucci 1973 duffel.

Burberry Prorsum

oversized shearling jacket.
Mademoiselle Agnes' (producer of lalala productions) list:
3.1 Phillip Lim

double-breasted camel coat

Ray-Ban

- RB4125 Sunglasses

Hermes

Vintage Birkin Bag

Chanel

kid-suede boot
Anna Della Russo's (fashion director at large Vogue nippon) list:
Trusardi

1911 leopard-print pony skin iPad holder

Dolce & Gabbana

- Smooth Eye-Color Duo, Shine Lipstick, and Ultra Shine Lip Gloss.

Prada

Tessuto camouflage messenger bag
J.Crew crystal cluster cuff
Amalia Spinardi's (designer, Jo de Mer) list:
J.Crew

crystal cluster cuff

Sejaa

day cream (from Gisele Bundchen's line)
Tomoko Ogura's (women's fashion director Barney's New York co-op) list:
J.W. Hulme

limited edition iPad case

Lanvin

light taffeta trench coat

Sacai

chemise with lace details
Pick off of these ideas and I bet it'll make it slightly easier for you to choose certain gifts for whoever you have in mind. I know some of these products are on the pricey side but that's the lovely thing about fashion, you can always settle with something similar. Feed off of lists like these and it will only inspire you or give new ideas to buy gifts this holiday season. Happy shopping!
- Gentleman Tip of the Day -
From the pages of GQ, here are a few things you need to get down for 'a 21st-Century Gentleman'.
Start a collection of pocket squares. The elegant handkerchief of yours, that is not used to wipe your perspiration, can be folded into a few classic ways to be placed on the front breast pocket on your blazer. Set yourself apart from the other men in the room with a little sophistication + 1. Try choosing a cotton, silk, or linen. Once that is in the pocket, don't you dare take it out to use it as a regular handkerchief. Keep an extra in your other pocket, properly.

Make sure there's a dimple on your tie. The tie-dimple is important to have on wider ties; the skinny/narrow ties are perfectly fine with a simple knot.
"Tie your tie as you usually would, but before tightening it, press your finger into the fabric just below the knot."

"Keeping your finger flat, slowly tighten the knot, leaving a deep dimple in the center about half an inch deep and an inch long. Practice makes perfect."
Find a signature scent. Here is a bit more if you have missed out, check out the GTD on this post: Signature Fragrance

An overcoat should be covering that fine suit of yours. The professionalism in a three-quarters, slim cut, coat screams style without making any ears bleed. It's that extra layer of warmth and sophistication.

Those dress shoes better be taken care of. Clean, polish, and wait. Again if you have missed out, check out the GTD on this post: A Man's Shoes

Accessories without flamboyance: Cuff-links. Invest in shirts with French cuffs. You don't really need any fancy designs, simply stick to the basics - gold and silver solid cuff-links. If you are a little advance, don't be afraid to mix it up with fabric type cuff-links with other clever designs.

Your favorite pair of jeans should be the dark-washed slim fit that you can wear with a blazer. I know we all have those pair of jeans that we simply can never get tired of because of its comfort and how lightly it falls on our bodies. Those jeans should be left on the days of complete relaxation, not pondering if you should wear it with a blazer. Solid color, no bagginess, and a simple print/stitching.

There is nothing more tacky than those novelty boxers or underwear. Smurfs? Really? That is seriously not sexy for a woman of taste, she'll laugh and then sleep with you just for the sake of it. Stick to solid or other designs (like checks or stripes) when it comes to boxers. And wear nothing else other than boxer-briefs or normal underwear when it comes to dress pants or even those jeans I just mentioned.

Keep it trimmed. If you can, go to your barbershop to line your hair up nicely once a week. You won't even know the difference, it's almost as if you had a haircut that lasted months without the line breaking.

You better have that classy/sexy wristwatch I talked about in the earlier post: GTD on watches
After a long while (around a decade or so), men are starting sport hats. I'm talking about the fedoras, trilby, the porkpie, or a bowler. Whether you want to sport it like Frank Sinatra or Justin Timberlake, there's a hat for you. Don't be shy.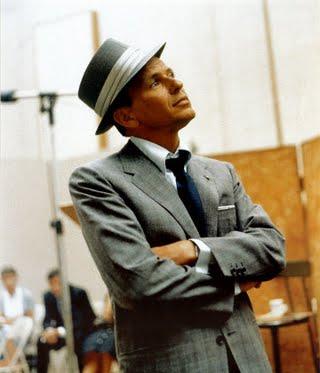 Frank Sinatra
Learn it, love it, live it. It's the 21st century, gentleman. Let's do it the way it should be done.